CAREER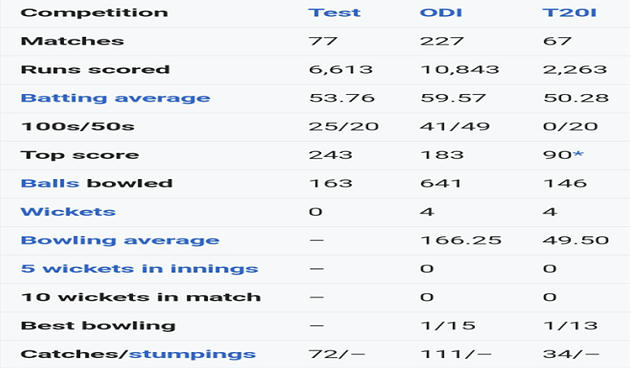 EARLY LIFE
Virat Kohli was born on 5 November 1988 in Delhi into a Punjabi family.His father, Prem Kohli, worked as a criminal lawyer and his mother, Saroj Kohli, is a housewife.
He has an older brother, Vikas, and an older sister, Bhavna. According to his family, when he was three-years old, Kohli would pick up a cricket bat, start swinging it and ask his father to bowl at him.
Kohli was raised in Uttam Nagar and started his schooling at Vishal Bharti Public School. In 1998, the West Delhi Cricket Academy was created, and Kohli, a nine-year-old, was part of its first intake. Kohli trained at the academy under Rajkumar Sharma.
Kohli's father died on 18 December 2006 due to a stroke after being bed-ridden for a month.
DOMESTIC CAREER
Kohli first played for Delhi Under-15 team in October 2002 in the 2002–03 Polly Umrigar Trophy. He became the captain of the team for the 2003–04 Polly Umrigar Trophy.
In late 2004, he was selected in the Delhi Under-17 team for the 2003–04 Vijay Merchant Trophy. He scored 470 runs in four matches at an average of 117.50 with two hundreds and top-score of 251*.
Kohli captained the victorious Indian team at the 2008 ICC Under-19 Cricket World Cup held in Malaysia. Batting at number 3, he scored 235 runs in 6 matches at an average of 47 and finished as the tournament's third-highest run-getter
INTERNATIONAL CAREER
Following the Under-19 World Cup, Kohli was bought by the Indian Premier League franchise Royal Challengers Bangalore for $30,000 on a youth contract.
In August 2008, Kohli was included in the Indian ODI squad for tour of Sri Lanka and the Champions Trophy in Pakistan. Prior to the Sri Lankan tour, Kohli had played only eight List A matches
He made his international debut, at the age of 19, in the first ODI of the tour and was dismissed for 12.He made his first ODI half century, a score of 54, in the fourth match which helped India win the series He had scores of 37, 25 and 31 in the other three matches
INTERNATIONAL CAREER
Kohli returned to the national team replacing the injured Gautam Gambhir in the Indian squad for the tri-series in Sri Lanka. He batted at number 4 for India in the 2009 ICC Champions Trophy because of an injury to Yuvraj Singh.
In the inconsequential group match against the West Indies, Kohli scored an unbeaten 79 in India's successful chase of 130 and won his first man of the match awar.
Kohli returned to the team in the fourth ODI at Kolkata and scored his first ODI century–107 off 111 ball. Tendulkar was rested for the tri-nation ODI tournament in Bangladesh in January 2010, which enabled Kohli to play in each of India's five matches
INTERNATIONAL CAREER
Kohli made 168 runs at 42.00 including two fifties against Sri Lanka and Zimbabwe in Zimbabwe in May–June 2010. During the series, Kohli became the fastest Indian batsman to reach 1,000 runs in ODI cricket
He was India's leading run-scorer in ODIs in 2010, with 995 runs from 25 matches at an average of 47.38 including three centuries.
Kohli was India's leading run-getter in the five-match ODI series of the South African tour in January 2011, with 193 runs at an average of 48.25 including two fifties, both in Indian defeats
WORLD CUP
Kohli played in every match of India's successful World Cup campaign. He scored an unbeaten 100, his fifth ODI century, in the first match against Bangladesh and became the first Indian batsman to score a century on World Cup debut.
In the final against Sri Lanka at Mumbai, he scored 35, sharing an 83-run partnership with Gambhir for the third wicket after India had lost both openers within the seventh over chasing 275.
MATCH WINNER
In October 2011, Kohli was the leading run-scorer of the five-match home ODI series against England which India won 5–0.
In the first seven matches of the Commonwealth Bank triangular series against hosts Australia and Sri Lanka, Kohli made two fifties–77 at Perth and 66 at Brisbane–both against Sri Lanka
Being set a target of 321 by Sri Lanka, Kohli came to the crease with India's score at 86/2 and went on to score 133 not out from 86 balls to take India to a comfortable win with 13 overs to spare.
MATCH WINNER
Kohli was appointed the vice-captain for the 2012 Asia Cup in Bangladesh. Kohli was in fine form during the tournament, finishing as the leading run-scorer with 357 runs at an average of 119.
In the final group stage match against Pakistan, he scored a personal best 183 off 148 balls, his 11th ODI century.
Many senior players including Dhoni were rested for the five-match ODI tour of Zimbabwe in July 2013, with Kohli being appointed captain for an entire series for the first time.
Dhoni returned from injury to captain the team for 2014 ICC World Twenty20 and Kohli was named vice-captain.
Kohli had made a total of 319 runs in the tournament at an average of 106.33, a record for most runs by an individual batsman in a single World Twenty20 tournament, for which he won the Man of the Tournament award.
India conceded a 3–1 defeat in the five-match Test series against England despite leading it 1–0 after the first two Tests. Kohli fared poorly in the series averaging just 13.40 in 10 innings with a top score of 39 in 2014.
MATCH WINNER
For the first Test of the Australian tour in December 2014, Dhoni was not part of the Indian team at Adelaide due to an injury, and Kohli took the reins as Test captain for the first time.Kohli scored 115 in India's first innings, becoming the fourth Indian to score a hundred on Test captaincy debut.
In the first match of the World Cup against Pakistan at Adelaide, Kohli hit 107 in 126 balls, sharing 100-plus partnerships with both Dhawan and Raina, to help India set a total of 300 and win the match by 76 runs.
India was eliminated in the semi-final by Australia at Melbourne, where Kohli was dismissed for 1 off 13 balls,
RATNA
During South Africa's tour of India, Kohli became the fastest batsman in the world to make 1,000 runs in T20I cricket.
Virat Kohli got the chance to captain in an ICC tournament for the first time in the 2017 ICC Champions Trophy. In the semi-final against Bangladesh, Kohli scored 96*, thus becoming the fastest batsman, in terms of innings, to reach 8,000 runs in ODIs in 175 innings.
In the captaincy of Virat Kohli, the Indian cricket team reached the finals, but lost to Pakistan Cricket team by 180 runs.
He followed it up with ODI centuries against the West Indies and Sri Lanka in consecutive series, In October 2017, he was adjourned the ODI player of the series against New Zealand for scoring two ODI centuries, during the course of which he made a new record for the most runs (8,888), best average (55.55) and highest number of centuries (31) for any batsman when completing 200 ODIs
RATNA
During ODI series against West Indies in 2018, Kohli became the 12th batsman and fastest player to score 10,000 ODI runs.
He surpassed the milestone with 205 innings which is 54 innings less than the next quickest to the landmark, Sachin Tendulkar.
In the course he scored his 37th ODI century. Kohli's average after crossing 10,000 is 59.62, which is also the best average among the 10,000 club members.On 27 October, after scoring his 38th ODI century
On 16 December 2018 in  Border Gavaskar Trophy, Kohli scored his 25th test hundred in Perth. His knock of 123 was his 6th hundred in three tours to Australia making him the only Indian to score 6 test hundreds in Australia after Sachin Tendulkar.
Make Notes