EARLY LIFE
Krishnan was born in Bangalore, to Palakkad Malayali parents Raju Krishnan and Nalini Krishnan. She saw most of the country early on while traveling from one place to another with her father, who worked with the Department of Survey which makes maps for the entire country.
Krishnan's passion for social work became manifested when, at the age of eight years, she started teaching dance to mentally challenged children. By the age of twelve, she was running schools in slums for underprivileged children.
WARRIOR
At the age of fifteen, while working on a neo-literacy campaign for the Dalit community, Krishnan was gang raped by eight men.
They did not like that a woman was interfering with what they claimed as "man's society." They beat her so badly that she is partially deaf in one ear. This incident served as the impetus for what she does today.
Krishnan studied in Central Government Schools in Bangalore and Bhutan. After obtaining a bachelor's degree in environmental sciences from St. Joseph's College in Bangalore, Krishnan completed her MSW (medical & psychiatric) from Roshni Nilaya, Mangalore.
PRAJJWALA
In order to make a fresh start, Krishnan decided to move to Hyderabad, to join PIN as the Coordinator for the program for young women.
In 1996, sex workers living in Mehboob ki Mehandi, a red light area in Hyderabad, were evacuated. As a result, thousands of women, who were caught in the clutches of prostitution, were left homeless.
Krishnan started a transition school at the vacated brothel to prevent the second generation from being trafficked.
PRAJJWALA
In its early years, Krishnan had to sell her jewelry and even most of her household utensils to make ends meet at Prajwala.
Today, Prajwala stands upon five pillars: prevention, rescue, rehabilitation, reintegration and advocacy.
The organization extends moral, financial, legal and social support to victims and ensures that perpetrators are brought to justice.
To date, Prajwala has rescued, rehabilitated, or served over 12,000 survivors of sex trafficking,and the scale of their operations makes them the largest anti-trafficking shelter in the world.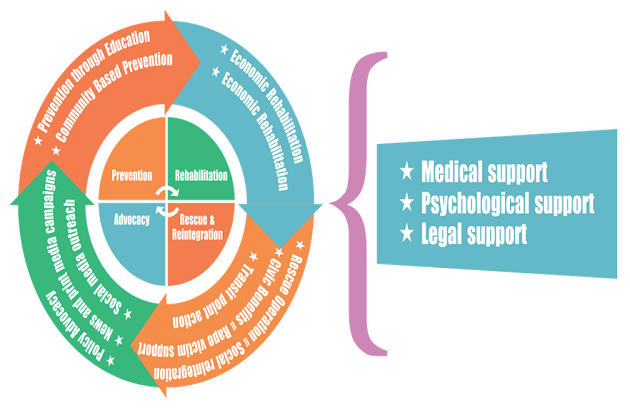 MESSENGER OF GOD
The organization's "second-generation" prevention program operates in 17 transition centers and has helped prevent thousands of children of prostituted mothers from entering the flesh trade.
Prajwala also operates a shelter home for rescued children and adult victims of sex trafficking, many of whom are HIV positive.
Krishna not only leads these interventions, but has also spearheaded an economic rehabilitation program which trains survivors in carpentry, welding, printing, masonry and housekeeping
MESSENGER OF GOD
Prajwala has over 200 employees, but Krishnan runs the organization as a full-time volunteer—a decision she took very early in her life. She supports herself, with help from her husband, by writing books and giving speeches and seminars on trafficking worldwide.
She is married to Mr. Rajesh Touchriver, an Indian filmmaker, art director and scriptwriter.
In 2003, Krishnan drafted recommendations for rehabilitation of victims of sex trafficking in Andhra Pradesh, which were passed by the State Government as a Policy for Rescue & Rehabilitation of Victims of Trafficking for commercial sexual exploitation.
The states of Karnataka, Maharashtra, Tamil Nadu, West Bengal, Uttar Pradesh, and Delhi are now taking cues from Krishnan's strategies to bring in similar rescue policies.
MESSENGER OF GOD
Ms. Krishnan was appointed as advisor for the Government of Kerala's Nirbhaya policy for Women and Children to fight sexual violence and trafficking in 2011.
However, she resigned from this advisory position on 4 August 2014, expressing anguish and frustration at the lack of political will to implement the Nirbhaya policy.
In March 2015, in a "move of repentance" the government re-inducted Sunitha Krishnan back to its Nirbhaya scheme by giving her more decision-making power through the role of Honorary Director.
MESSENGER OF GOD
She also launched the Men Against Demand campaign with the slogan "Real Men Don't Buy Sex" which has reached 1.8 billion people worldwide.She was also appointed as a member of the Andhra Pradesh State Women's Commissionand contributed to India's new Bill on Rape, which was passed in Parliament in 2013 to increase punitive measures for sexual violence and assault.
Krishnan has also conducted sensitization workshops for thousands of senior police officers, judges, prosecutors and Child Welfare Committee members.
As a result, police personnel ranking from Superintendents to Sub Inspectors have been trained on how to combat the crime and address the psycho-social needs of victims during and after rescue.
MESSENGER OF GOD
In another path-breaking effort she pioneered the #ShameTheRapist Campaign which was taken as a suomotto case in Supreme Court and has thrown light for the first time the horrendous trend of making and circulating rape videos.
In a first of its kind move CBI is investigating 9 videos that Sunitha Krishnan submitted to the Apex court.
In 2015, after the #ShameTheRapist campaign, the landlord gave an ultimatum to shift her Falaknuma, Hyderabad-based Economic Rehabilitation Unit.
With limited time and resources available, Krishnan chose to crowdfund the funding gap required to relocate to her new facility. She crowdfunded over $225000 on crowdfunding platform called goCrowdera.com
MESSENGER OF GOD
Krishnan has been physically assaulted 14 times and she receives regular death threats.
She says that a Sumo van once deliberately rammed her auto rickshaw, but she escaped serious injury. She was again fortunate to escape injury when acid was once flung at her.
Good fortune saved her a third time when she was the target of a poisoning attempt.
Make Notes