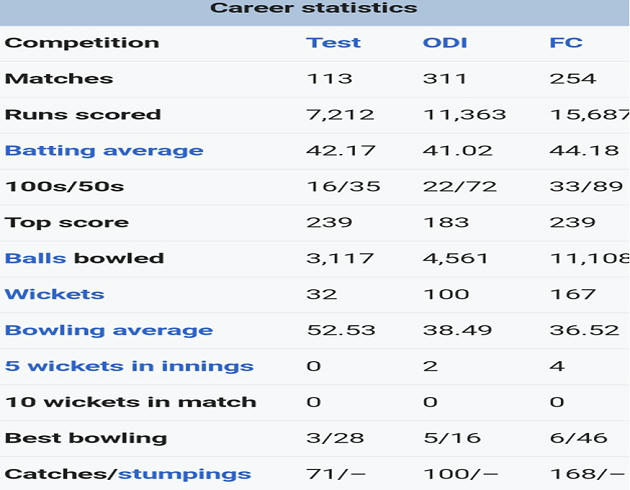 GOD OF OFF SIDE
Ganguly was introduced into the world of cricket by his elder brother, Snehasish. He is regarded as one of India's most successful captains in modern times, and one of the greatest ODI batsmen of all time.
He started his career by playing in state and school teams. Currently, he is the 8th highest run scorer in One Day Internationals (ODIs) and was the 3rd batsman in history to cross the 10,000 run landmark,
EARLY LIFE
Sourav Ganguly was born on 8 July 1972 in Calcutta, and is the youngest son of Chandidas and Nirupa Ganguly.
Chandidas ran a flourishing print business and was one of the richest men in the city. Ganguly had a luxurious childhood and was nicknamed the 'Maharaja'.
Since the favourite sport for the people of Calcutta was football, Ganguly was initially attracted to the game. However, academics came in-between his love for sports and Nirupa was not very supportive of Ganguly taking up cricket or any other sport as a career.
CHAMPION
By then, his elder brother Snehasish was already an established cricketer for the Bengal cricket team. He supported Ganguly's dream to be a cricketer and asked their father to get Ganguly enrolled in a cricket coaching camp during his summer holidays.
Despite being right-handed, Ganguly learnt to bat left-handed so he could use his brother's sporting equipment.
After he showed some promise as a batsman, he was enrolled in a cricket academy.
DEBUT
After he scored a century against the Orissa Under–15 side, he was made captain of St Xavier's School's cricket team.
His playmanship gave him a chance to make his first-class cricket debut for Bengal in 1989.
Following a prolific Ranji season in 1990–91Ganguly scored three runs in his One Day International (ODI) debut for India against the West Indies in 1992.
RISING
He was dropped immediately. He toiled away in domestic cricket, scoring heavily in the 1993–94 and 1994–95 Ranji seasons.
Following an innings of 171 in the 1995–96 Duleep Trophy, he was recalled to the National team for a tour of England in 1996. He played in a single ODI, but was omitted from the team for the first Test.
Ganguly made his Test debut against England in the Second Test of a three-match series at Lord's Cricket Ground alongside Rahul Dravid.Ganguly scored a century, becoming only the third cricketer to achieve such a feat on debut at Lord's.
CHAMPION
In the next Test match at Trent Bridge he made 136.He shared a 255 run stand with Sachin Tendulkar, which became at that time the highest partnership for India against any country for any wicket outside India.
The Test again ended in a draw, handing England a 1–0 series victory; Ganguly scored 48 in the second innings.
Ganguly eloped with childhood love Dona Roy formal wedding was held in February 1997. Same year, Ganguly scored his maiden ODI century by hitting 113.
CHAMPION
Later that year, he won four consecutive man of the match awards, in the Sahara Cup with Pakistan.
During the third final of the Independence Cup at Dhaka in January 1998, India successfully chased down 315 off 48 overs, and Ganguly won the Man of the Match award.
In March 1998 he was part of the Indian team that defeated Australia.Ganguly was part of the Indian team that competed in the 1999 World Cup in England.
During the match against Sri Lanka,Ganguly scored 183 from 158 balls, and hit 17 fours and seven sixes.
CAPTAIN
In 2000, after the match fixing scandal by some of the players of the team,Ganguly was named the captain of the Indian cricket team.
He began well as a captain, leading India to a series win over South Africa in the five-match one day series and led the Indian team to the finals of the 2000 ICC KnockOut Trophy.
In Australia's three Test and five-match ODI tour of India in early 2001, Ganguly caused controversy by arriving late for the toss on four occasions, something that agitated opposing captain Steve Waugh.
CAPTAIN
India won the Test series 2–1, ending Australia's run of 16 consecutive Test match victories in the Second Test.
During the final match of the 2002 NatWest Series held in Lords,Ganguly took off his shirt in public and brandished it in the air to celebrate India's winning of the match.
In 2003, India reached the World Cup Final for the first time since 1983, where they lost to the Australians. Ganguly had a successful tournament personally, scoring 465 runs at an average of 58.12, including three centuries.
CHAMPION
By 2004, he had achieved significant success as captain and was deemed as India's most successful cricket captains by sections of the media. However, his individual performance deteriorated during his captaincy reign, especially after the World Cup, the tour of Australia in 2003 and the Pakistan series in 2004.
Following indifferent form in 2004 and poor form in 2005, he was dropped from the team in October 2005.
Ganguly was awarded the Padma Shri in 2004. In September 2005, Greg Chappellbecame the coach of India for the tour of Zimbabwe.
Ganguly's dispute with him resulted in many headlines. Chappell had emailed the Board of Control for Cricket in India, stating that Ganguly was "physically and mentally" unfit to lead India and that his "divide and rule" behaviour was damaging the team
CHAPPEL VS GANGULY
Consequently, due to his poor form and differences with the coach, Ganguly was dropped as the captain of the team, with Dravid taking his place.
Following India's poor batting display in the 2006 ICC Champions Trophy and the ODI series in South Africa Ganguly made his comeback to the Test team.
Coming in at 37/4, Ganguly scored 83 in a tour match against the rest of South Africa, modifying his original batting style and taking a middle-stump guard.resulting in India winning the match.
CHAMPION
After his successful Test comeback he was recalled for the ODI team, as India played host to West Indies and Sri Lanka in back to back ODI tournaments.
Ganguly was allotted a place in the official team for the 2007 Cricket World Cup. After India were knocked out of the tournament, Chappell decided not to renew his contract with the Indian team and left his post as coach, citing "family and personal reasons".
On 12 December 2007, Ganguly scored his maiden double century of his career while playing against Pakistan. He scored 239 runs in the first innings of the third and final Test match of the series.
CHAMPION
Ganguly remained prolific in both Test and ODI cricket in the year 2007. He scored 1106 Test runs at an average of 61.44 in 2007 to become the second highest run-scorer.
In February 2008, Ganguly joined as the captain of Kolkata Knight Riders (KKR) team.
The same year in October, Ganguly announced that the Test series against Australia starting in October 2008 would be his last and stated.
In the final test match he played at Nagpur against Australia he scored 85 and 0 in his first and second innings respectively.On 29 October 2012, he announced that he has decided not to play in next year's IPL and to retire from the game.
Make Notes