Read
Home /
Ghiyasuddin Tughalaq
MUSLIM DYNASTIES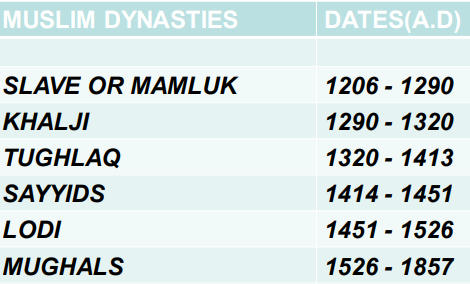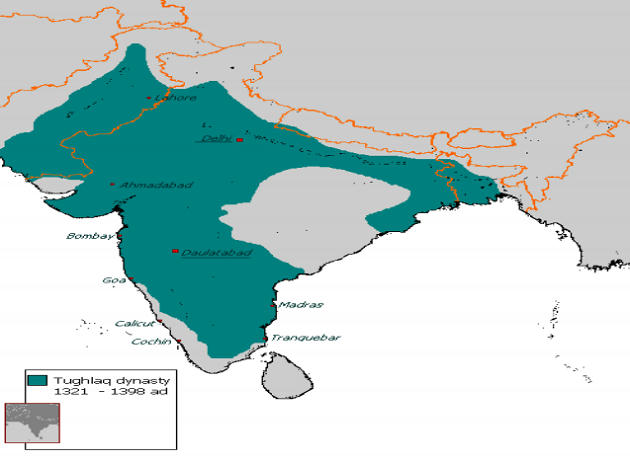 TUGHLAQS
The Khalji dynasty ruled the Delhi Sultanate before 1320. Its last ruler, Khusro Khan, was a Hindu who had been forcibly converted to Islam and then served the Delhi Sultanate as the general of its army for some time.
In 1320, Ghazi Malik launched an attack and killed Khusro Khan to assume power. After assuming power, Ghazi Malik renamed himself as Ghiyasuddin Tughlaq – thus starting and naming the Tughlaq dynasty.
SULTAN
Ghiyas-ud-din faced both internal and external problems. The administrative setup established by Alaud-din was destroyed by his successors while no steps were taken to establish a new one.
His twin objects were to increase the land under cultivation and improve the economic condition of the farmers. The state-demand of revenue was fixed between 1/5 to 1/3 of the produce. He ordered that the revenue be increased only gradually and, in no case, beyond 1/11 to 1/10 from a province in a year.
SULTAN
The government officers were asked not to be cruel with peasants but to look after their welfare. Ghiyas-ud-din insisted that his officers should be honest.
Ghiyas-ud-din improved the means of communication. Roads were repaired and improved. Bridges and canals were also constructed. He improved the postal system.
He also improved the judicial system. Barani wrote that 'because of the justice of Tughluq Shah even a wolf could not dare to look towards a sheep.'
 EXPANSION
Ghiyas-ud-din was a capable military commander and, according to Barani, he loved his soldiers as a father loved his sons. Within two years after his accession, Ghiyas-ud-din succeeded in enhancing the strength of his army.
Towards the Hindus, Ghiyas-ud-din pursued nearly the same policy as was practised by Ala-ud-din. His policy was that neither the Hindus should be allowed to amass wealth so that they might rise in revolt nor they be reduced to poverty so much so that they might leave cultivation of their fields.
 EXPANSION
Devagiri was annexed to his empire only when Shankar Deva completely refused to accept his overlordship.
In 1321, he sent his eldest son Ulugh Khan, later known as Muhammad bin Tughlaq, to Deogir to plunder the Hindu kingdoms of Arangal and Tilang.His first attempt was a failure.
Four months later, Ghiyasuddin Tughlaq sent large army reinforcements for his son.This time Ulugh Khan succeeded. Arangal fell, was renamed to Sultanpur.
DEATH
Hardly the Sultan had become free from the campaigns of the South when he had to face an attack of the Mongols from the north-west in 1324 A.D. The Mongols, however, were defeated.
According to Ibn Batuta, while the Sultan was in Bengal, he received disquieting news of the activities of prince Jauna in Delhi.
At Afghanpur in February 1325, the wooden pavilion used for his reception collapsed, killing him and his second son Prince Mahmud Khan. Thus, Ibn Batuta charged prince Jauna Khan for the murder of the Sultan.
Make Notes