Read
Home /
Vinayak Damodar Savarkar
PART 1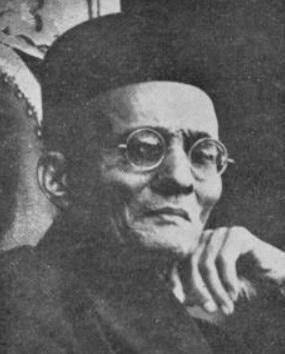 EARLY LIFE
Vinayak Damodar Savarkar was born on 28 may 1883 in the Marathi Brahmin Hindu family of Damodar and Radhabai Savarkar in the village of Bhagur, near the city of Nashik, Maharashtra.
He had three other siblings namely Ganesh, Narayan, and a sister named Maina. He earned the nickname "Veer"
After the death of his parents, the eldest sibling Ganesh, known as Babarao, took responsibility for the family. Babarao played a supportive and influential role in Vinayak's teenage life.
During this period, Vinayak organised a youth group called Mitra Mela and encouraged revolutionary and nationalist views of passion using this group.Subsequently, in 1902, he enrolled in Fergusson College, in Pune.
VEER
As a young man, he was inspired by the new generation of radical political leaders namely Bal Gangadhar Tilak, Bipin Chandra Pal and Lala Lajpat Rai along with the political struggle against the partition of Bengal and the rising Swadeshi campaign.
After completing his degree, nationalist activist Shyamji Krishna Varma helped Vinayak to go to England to study law, on a scholarship.
The members of the Garam Dal did not acknowledge the agenda of the majority moderate Indian National Congress leadership which advocated dialogue with the British rulers and incremental steps towards Independence by gaining the confidence of the British.
THE HISTORY OF THE WAR OF INDIAN INDEPENDENCE IN 1909
After joining Gray's Inn law college in London Vinayak took accommodation at India House. Savarkar soon founded the Free India Society to help organize fellow Indian students with the goal of fighting for complete independence through a revolution, declaring,
Savarkar envisioned a guerrilla war for independence along the lines of the famous war for Indian independence of 1857. Studying the history of the revolt, from English as well as Indian sources, Savarkar wrote the book, The History of the War of Indian Independence in 1909.
The book was banned throughout the British Empire. Madame Bhikaji Cama, an expatriate Indian revolutionary obtained its publication in the Netherlands, France and Germany. Widely smuggled and circulated, the book attained great popularity and influenced rising young Indians.
 ARREST AND ANDAMAN JAIL
In 1909, Madan Lal Dhingra, a keen follower and friend of Savarkar, assassinated Sir William Hutt Curzon Wyllie in a public meeting.
The slogan Savarkar coined for Indian festivals became a unifying factor: 'one Country, one God, one Caste, one Mind, brothers all of us without difference without doubt'. It was during this period that Savarkar helped design the first Indian National Flag, which Madam Cama unfurled at the World Socialist Conference at Stuttgart, Germany.
The Scotland Yard Police noose was tightening on Savarkar. Revolutionary activities in London, Mumbai, Pune and Nasik were traced to his guidance. Finally, he was arrested and ordered to be sent back to India
ARREST
Hoping to evade arrest, Savarkar moved to Madame Cama's home in Paris. He was nevertheless arrested by police on 13 March 1910.
Arriving in Bombay, Savarkar was taken to the Yervada Central Jail in Pune. One of the charges on Savarkar was he abetted murder. Following a trial, Savarkar, aged 28, was convicted and sentenced to 50-years imprisonment and transported on 4 July 1911 to the infamous Cellular Jail in the Andaman and Nicobar Islands.
                                                    CELLULAR JAIL
Conditions in jail were inhuman: backbreaking job of stone breaking, rope-making and milling.
For the last prisoners had to grind the copra in the mill, tied like oxen. Each had to take out 30 pounds of oil every day. Some died of sheer exhaustion and inhuman treatment of beating and whipping. Bad food, unsanitary conditions, stone bed and cold weather in winter took their toll.
Since political prisoners were treated like hardened criminals, they had no access to 'luxury' like pen and paper. The poet in Savarkar was restless and uneasy. Finally, he found a nail and wrote (etched) his epic Kamala consisting thousands of lines on the plastered mud wall of his cell in the darkness.
RELEASE
In 1920, the Indian National Congress and leaders such as Mahatma Gandhi, Vithalbhai Patel and Bal Gangadhar Tilak demanded his unconditional release.
On 2 May 1921, the Savarkar brothers were moved to a jail in Ratnagiri, and later to the Yerwada Central Jail. He was finally released on 6 January 1924 under stringent restrictions – he was not to leave Ratnagiri District and was to refrain from political activities for the next five years.
 

PART 2
LEADER OF HINDU MAHASABHA
In the wake of the rising popularity of the Muslim League led by Muhammad Ali Jinnah, Savarkar and his party began gaining attraction in the national political environment.
Savarkar moved to Bombay and was elected president of the Hindu Mahasabha in 1937, and would serve until 1943. The Congress swept the polls in 1937 but conflicts between the Congress and Jinnah would exacerbate Hindu-Muslim political divisions
When the Congress launched the Quit India movement in 1942, Savarkar criticised it and asked Hindus to stay active in the war effort and not disobey the government,he urged the Hindus to enlist in the armed forces to learn the "arts of war".
Hindu Mahasabha activists protested Gandhi's initiative to hold talks with Jinnah in 1944.
RESISTANCE
Under Savarkar, the Hindu Mahasabha openly opposed the call for the Quit India Movement and boycotted it officially.
The Indian National Congress won a massive victory in the Indian provincial elections, 1937, decimating the Muslim League and the Hindu Mahasabha.
However, in 1939, the Congress ministries resigned in protest against Viceroy Lord Linlithgow's action of declaring India to be a belligerent in the Second World War without consulting the Indian people.
This led to the Hindu Mahasabha, under Savarkar's presidency, joining hands with the Muslim League and other parties to form governments, in certain provinces.
 ARREST
Following the assassination of Gandhi on 30 January 1948, police arrested the assassin Nathuram Godse and his alleged accomplices and conspirators.
Savarkar, a former president of the Hindu Mahasabha, was arrested on 5 February 1948, from his house in Shivaji Park, and kept under detention in the Arthur Road Prison, Mumbai.
HINDUTVA
After Gandhi's assassination Savarkar's home in Dadar, Mumbai was stoned by angry mobs. After he was acquitted of the allegations related to Gandhi's assassination and released from jail, Savarkar was arrested by the government, for making "militant Hindu nationalist speeches", he was released after agreeing to give up political activities.
He continued addressing social and cultural elements of Hindutva. He resumed political activism after the ban on it was lifted, it was however limited until his death in 1966 because of ill health
FINAL DAYS
On 1 February 1966, Savarkar renounced medicines, food and water which he termed as atmaarpan (fast until death).
His condition was described to have become as "extremely serious" before his death on 26 February 1966 at his residence in Bombay (now Mumbai), and that he faced difficulty in breathing.
He was mourned by large crowds that attended his cremation. He left behind a son Vishwas and a daughter Prabha Chiplunkar.
VIEWS
In the brief period he spent at the Ratnagiri jail, Savarkar wrote his ideological treatise – Hindutva: Who is a Hindu?.
Smuggled out of the prison, it was published by Savarkar's supporters under his alias "Maharatta." In this work, Savarkar promotes a radical new vision of Hindu social and political consciousness.
Savarkar began describing a "Hindu" as a patriotic inhabitant of Bharatavarsha,venturing beyond a religious identity. While emphasising the need for patriotic and social unity of all Hindu communities, he described Hinduism, Jainism, Sikhism and Buddhism as one and the same.
He outlined his vision of a "Hindu Rashtra" (Hindu Nation) as "Akhand Bharat" (United India), purportedly stretching across the entire Indian subcontinent.
 VIEWS
He defined Hindus as being neither Aryan nor Dravidian but as "People who live as children of a common motherland, adoring a common holyland."
He often stressed social and community unity between Hindus, Sikhs, Buddhists and Jains, to the exclusion of Muslims and Christians. Savarkar saw Muslims and Christians as "misfits" in the Indian civilization who could not truly be a part of the nation.
Becoming a frequent and forceful orator, Sarvakar agitated for the use of Hindi as a common national language and against caste discrimination and untouchability.
Make Notes