EARLY LIFE
Shaktikanta Das (born 26 February 1957) is a retired 1980 batch Indian Administrative Service (IAS) officer of Tamil Nadu cadre.
Born in Bhubaneswar, Das was schooled at the Demonstration Multipurpose School, Bhubaneswar and then obtained bachelor's (BA) and master's degrees (MA) in history from the St. Stephen's College at the University of Delhi.
EDUCATION
As an IAS officer, Das did an advanced financial management course from Indian Institute of Management Bangalore and got development banking and institutional credit from the National Institute of Bank Management.
He also got a diploma in basic project management from the Administrative Staff College of India and did mid-career level training from the Indian Institute of Management Calcutta along with two programme implementation courses from the Himachal Pradesh Institute of Public Administration and the Institute of Management in Government.
POSITIONS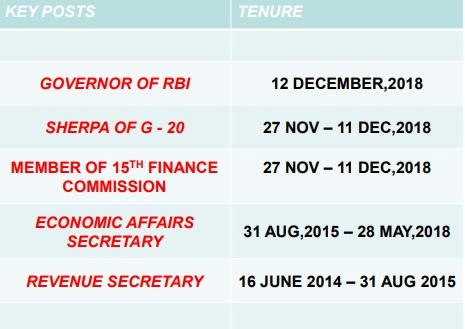 AS AN IAS OFFICER
Das served in various positions for both the Government of India and the Government of Tamil Nadu, like as Principal Secretary (Industries), Special Commissioner (Revenue), Secretary (Commercial Taxes) and as the district magistrate and collector of Dindigul and Kancheepuram districts in the Tamil Nadu government.
Union Economic Affairs Secretary, Union Revenue Secretary, Union Fertilizers Secretary, special secretary in the Department of Economic Affairs of the Ministry of Finance and as a joint secretary in the Department of Expenditure of the Ministry of Finance in the Indian government.
REVENUE AND ECONOMIC SECRETARY
Das was appointed Union Revenue Secretary by the prime minister led-Appointments Committee of the Cabinet (ACC) in June 2014, he assumed the office of Secretary on 16 June 2014, and demitted it on 31 August 2015.
Das was appointed Union Economic Affairs Secretary by ACC in August 2015.During his tenure as Union Economic Affairs Secretary, Das was widely regarded as one of the most powerful civil servants in India.
 GOVERNOR OF RBI
Post his retirement from the IAS, Das was appointed a member of the Fifteenth Finance Commission. In addition, he was appointed as India's Sherpa to the G20
Das was appointed Governor of the Reserve Bank of India by ACC on 11 December 2018 for a period of three year
The banks under the PCA are Allahabad Bank, United Bank of India, Corporation Bank, IDBI Bank, Uco Bank, Bank of India, Central Bank of India, Indian Overseas Bank, Oriental Bank of Commerce, Dena Bank, and Bank of Maharashtra.
GOVERNOR
On 11 January 2013, Patel was appointed as Deputy Governor of RBI for a period of three years. He took over charge of the vital Monetary Policy Department, succeeding Subir Gokarn to the post.
On 20 August 2016, he was appointed as the governor of Reserve Bank Of India (RBI) succeeding Raghuram Rajan.
 REASONS OF RESIGNATION OF URJIT PATEL
REGULATIONS OF PSB
PROMP CORRECTIVE ACTION
NPA AND MSME ISSUE
SECTION 7 OF RBI ACT
SURPLUS
Make Notes