PV NARASIMHA RAO
PART 1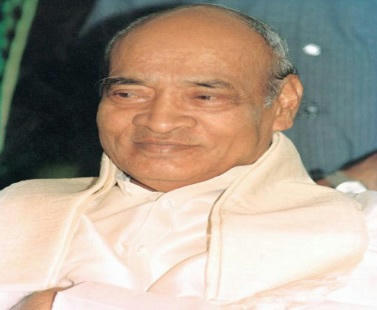 EARLY LIFE
Pamulaparti Venkata Narasimha Rao (28 June 1921 – 23 December 2004). PV Narasimha Rao had humble social origins. He was born in a Brahmin family in a village Laknepalli in Warangal District, now in Telangana.
He was adopted at the age of three by P. Ranga Rao and Rukminiamma, who hailed from agrarian families.
Popularly known as PV, he completed part of his primary education in Katkuru village of Bheemdevarapalli mandal in Karimnagar district by staying in his relative house and studying for his Bachelor's degree in the Arts college at the Osmania University.
THE BEGINNING
P.V. Narasimha Rao was part of Vande Matram movement in late 1930s in the Hyderabad state. He later went on to Hislop College, now under Nagpur University, where he completed a Master's degree in law.
Freedom struggle was at its peak during the 1940s, and Rao, a passionate patriot trained to be a guerrilla fighter to revolt against the Nizam who ruled Hyderabad at that time.
Rao's mother tongue was Telugu, and he had an excellent command of Marathi. In addition to eight other Indian languages (Hindi, Oriya, Bengali, Gujarati, Kannada, Sanskrit, Tamil and Urdu), he spoke English, French, Arabic, Spanish, German and Persian.
FAMILY
PV edited a Telugu weekly magazine called Kakatiya Patrika in the 1940s.Both PV and Sadasiva Rao contributed articles under the pen-name Jaya-Vijaya.
Narasimha Rao was married to Satyamma Rao, who died in 1970. They had three sons and five daughters. His eldest son late P.V. Rangarao was an education minister in Kotla Vijaya Bhaskara Reddy's cabinet and MLA from Hanamakonda Assembly Constituency, in Warangal District for two terms.
His second son, Late P.V. Rajeswara Rao, was a Member of Parliament of the 11th Lok Sabha (15 May 1996 – 4 December 1997) from Secunderabad Lok Sabha constituency.
 FREEDOM FIGHTER
He fought a grueling war against the Nizam, risking his life as he strained to evade getting killed by the Nizam's army. Even on 15 August 1947—the day India became independent—he was fighting in a forest.
He survived the war and joined politics after independence. He served in the Andhra Pradesh legislative assembly from 1957 to 1977. He was a staunch supporter of Indira Gandhi.
POLITICS
Narasimha Rao was an active freedom fighter during the Indian Independence movement and joined full-time politics after independence as a member of the Indian National Congress.
He rose to national prominence in 1972 for handling several diverse portfolios, most significantly Home, Defence and Foreign Affairs, in the cabinets of both Indira Gandhi and Rajiv Gandhi.
Rao very nearly retired from politics in 1991. It was the assassination of the Congress President Rajiv Gandhi that persuaded him to make a comeback.
As the Congress had won the largest number of seats in the 1991 elections, he had an opportunity to head the minority government as Prime Minister. parliament.
 POLITICAL CAREER
Since Rao had not contested the general elections, he then participated in a by-election in Nandyal to join the parliament.Rao won from Nandyal with a victory margin of a record 5 lakh (500,000) votes and his win was recorded in the Guinness Book Of World Records.
He also broke a convention by appointing a non-political economist and future prime minister, Manmohan Singh as his Finance Minister.
He also appointed Subramanian Swamy, an Opposition party member as the Chairman of the Commission on Labour Standards and International Trade. This has been the only instance that an Opposition Party member was given a Cabinet rank post by the ruling party.
He also sent Opposition leader Atal Bihari Vajpayee, to represent India in a UN meeting at Geneva.
ECONOMIC REFORMS
Adopted to avert impending 1991 economic crisis,the reforms progressed furthest in the areas of opening up to foreign investment, reforming capital markets, deregulating domestic business, and reforming the trade regime.
Rao's government's goals were reducing the fiscal deficit, Privatization of the public sector and increasing investment in infrastructure.
Rao wanted I.G. Patel(Ex RBI Governor) as his Finance Minister But Patel declined. Rao then chose Manmohan Singh for the job. Manmohan Singh, an acclaimed economist, played a central role in implementing these reforms.
 ECONOMIC REFORMS
Reducing tariffs from an average of 85 percent to 25 percent, and rolling back quantitative controls.
Encouraging foreign direct investment by increasing the maximum limit on share of foreign capital in joint ventures from 40 to 51% with 100% foreign equity permitted in priority sectors.
The impact of these reforms may be gauged from the fact that total foreign investment (including foreign direct investment, portfolio investment, and investment raised on international capital markets) in India grew from a minuscule US $132 million in 1991–92 to $5.3 billion in 1995–96.
Rao began industrial policy reforms with the manufacturing sector. He slashed industrial licensing, leaving only 18 industries subject to licensing. Industrial regulation was rationalised
DEATH
In 1960, he suffered a heart attack. He was treated by top doctors in India, including his friend Dr Bidhan Chandra Roy, the then Chief Minister of West Bengal.
His health started deteriorating and he died on 7 March 1961 at the age of 74, from a cerebral stroke. At that time he was still in office as the Home Minister of India.
PV NARSIMHA RAP PART 2
MANAGEMENT
Rao energised the national nuclear security and ballistic missiles program, which ultimately resulted in the 1998 Pokhran nuclear tests. It is speculated that the tests were actually planned in 1995.
It was during his term that terrorism in the Indian state of Punjab was finally defeated. He also directed negotiations to secure the release of Doraiswamy, an Indian Oil executive, from KashmiriN terrorists who kidnapped him, and Liviu Radu, a Romanian diplomat posted in New Delhi in October 1991, who was kidnapped by Sikh terrorists.
MANAGEMENT
He decided in 1992 to bring into the open India's relations with Israel, which had been kept covertly active for a few years during his tenure as a Foreign Minister, and permitted Israel to open an embassy in New Delhi.
Rao's crisis management after 12 March 1993 Bombay bombings was highly praised.
He personally visited Bombay after the blasts and after seeing evidence of Pakistani involvement in the blasts, ordered the intelligence community to invite the intelligence agencies of the US, UK and other West European countries to send their counterterrorism experts to Bombay to examine the facts for themselves
HARSHAD MEHTA CASE
Harshad Mehta was an Indian stockbroker, well known for his wealth and for having been charged with numerous financial crimes that took place in the Securities Scam of 1992.
Of the 27 criminal charges brought against him, he was only convicted of four, before his death at age 47 in 2001. It was alleged that Mehta engaged in a massive stock manipulation scheme financed by worthless bank receipts.
Mehta was convicted by the Bombay High Court and Supreme Court of India for his part in a financial scandal valued at 4999 Crores which took place on the Bombay Stock Exchange (BSE).
The scandal exposed the loopholes in the Indian banking system, Bombay Stock Exchange (BSE) transaction system and SEBI further introduced new rules to cover those loopholes. He was tried for 9 years, until he died in late 2001
ACCUSATIONS ON NARSIMHA RAO
Mehta again raised a furore on 16 June 1993 when he made a public announcement that he had paid Rupees 1 Crore to the then Congress president and prime minister, Mr P.V. Narasimha Rao, as donation to the party, for getting him off the scandal case.
Rao's government was facing a no-confidence motion in July 1993, because the opposition felt that it did not have sufficient numbers to prove a majority.
In 1996, after Rao's term in office had expired, investigations began in earnest in the case. In 2000, after years of legal proceedings, a special court convicted Rao and his colleague, Buta Singh.
Rao was sentenced to three years in prison for corruption. Rao appealed to the Delhi High Court and remained free on bail. In 2002, the Delhi High Court overturned the lower court's decision.
 HALF LION(REFORMS)
Rao decided that India, which in 1991 was on the brink of bankruptcy,would benefit from liberalising its economy.This liberalisation was criticised by many socialist nationalists at that time.
He is often referred as 'Father of Indian Economic Reforms'. With Rao's mandate, then finance minister Manmohan Singh launched a series of pro-globalisation reforms, including International Monetary Fund (IMF) policies, to rescue the almost-bankrupt nation from economic collapse.
Rao successfully decimated the Punjab separatist movement and neutralised Kashmir separatist movement.
BABRI MASJID RIOTS
In the late 1980s, the Bharatiya Janata Party (BJP) brought the Ram Janmabhoomi issue to the centrestage of national politics, and the BJP and VHP began organising larger protests in Ayodhya and around the country.
Members of the Vishva Hindu Parishad (VHP) demolished the Babri Mosque (which was constructed by India's first Mughal emperor, Babar) in Ayodhya on 6 December 1992. The site is the birthplace of the Hindu God Rama .
The destruction of the disputed structure, which was widely reported in the international media, unleashed large scale communal violence.
 FINANCIAL TROUBLES
In spite of significant achievements in a difficult situation, in the 1996 general elections the Indian electorate voted out Rao's Congress Party. Soon, Sonia Gandhi's coterie forced Mr. Rao to step down as Party President. He was replaced by Sitaram Kesri.
Rao rarely spoke of his personal views and opinions during his 5- year tenure. After his retirement from national politics, he published a novel called The Insider.
According to a vernacular source, despite holding many influential posts in Government, he faced many financial troubles. He also faced trouble paying fees for a daughter who was studying medicine.
DEATH
Rao suffered a heart attack on 9 December 2004, and was taken to the All India Institute of Medical Sciences where he died 14 days later at the age of 83.
His family wanted the body cremated in Delhi."This is his karmabhoomi", Rao's son Prabhakara told Manmohan Singh. But it is alleged that Sonia Gandhi's closest aides ensured that the body was moved to Hyderabad.
In Delhi, his body was not allowed inside AICC building. His body was kept in state at the Jubilee Hall in Hyderabad. His funeral was attended by the then Prime Minister Manmohan Singh, the then Home Affairs Minister Shivraj Patil, the then Bharatiya Janata Party (BJP) president L.K. Advani, the then Defence Minister Pranab Mukherjee, the then Finance Minister P. Chidambaram and many other dignitaries.
Make Notes