MUGHALS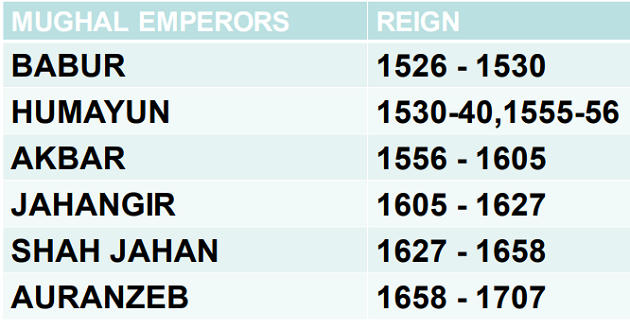 TAKHT
Shahjahan and Mumtaz Mahal had 4 sons:
Dara Shukoh
Shuja
Muhiuddin (later known as Aurangzeb)
Murad Baksh.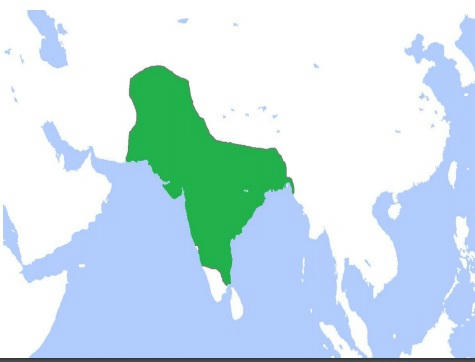 EARLY LIFE
Muhammad Dara Shukoh was born on 20 March 1615 in Ajmer, Rajasthan. He was the first son and third child of Prince Shahab-ud-din Muhammad Khurram and his second wife, Mumtaz Mahal.
The prince was named by his father. 'Dara' means owner of wealth or star in Persian while the second part of the prince's name is commonly spelled in two ways: Shikoh (terror) or Shukoh (majesty or grandeur).
Dara Shukoh had thirteen siblings of whom six survived to adulthood: Jahanara Begum, Shah Shuja, Roshanara Begum, Aurangzeb, Murad Bakhsh, and Gauhara Begum.
 EDUCATION
As part of his formal education, Dara studied the Quran, history, Persian poetry and calligraphy. He was a liberalminded unorthodox Muslim unlike his father and his younger brother Aurangzeb. • In October 1627,Dara's grandfather Emperor Jahangir died, and his father ascended the throne in January 1628 taking the regnal name 'Shah Jahan'.Soon after, Dara was appointed as the Valiahad (heir-apparent) to his father.
 UNITY OF GOD
During the life time of his mother Mumtaz Mahal, Dara Shukoh was betrothed to his half-cousin, Princess Nadira Banu Begum.
He was the disciple of religious gurus like Baba Lal (companion of Saint Kabir), Sarmad Kashani, Mullah Shah Badakhshi and Sufi saint Hazrat Mian Mir. And also a friend of 7th Sikh guru Har Rai and On the contrary, younger brother Muhiuddin was cold, staunch and cunning.
INTELLECTUAL
Dara Shukoh is widely renowned as an enlightened paragon of the harmonious coexistence of heterodox traditions on the Indian subcontinent.
Dara Shukoh was a follower of the Persian "perennialist" mystic Sarmad Kashani, as well as Lahore's famous Qadiri Sufi saint Hazrat Mian Mir, whom he was introduced to by Mullah Shah Badakhshi (Mian Mir's spiritual disciple and successor).
Dara Shukoh subsequently developed a friendship with the seventh Sikh Guru, Guru Har Rai. Dara Shukoh devoted much effort towards finding a common mystical language between Islam and Hinduism.
 INTELLECTUAL
Towards this goal he completed the translation of fifty Upanishads from their original Sanskrit into Persian in 1657 so that they could be studied by Muslim scholars.
His translation is often called Sirr-e-Akbar ("The Greatest Mystery").His most famous work, Majmaul-Bahrain ("The Confluence of the Two Seas"), was also devoted to a revelation of the mystical and pluralistic affinities between Sufic and Vedantic speculation.The book was authored as a short treatise in Persian in 1654-55.
PATRON OF ART
The 'Dara Shikoh' is a collection of paintings and calligraphy assembled from the 1630s until his death.
Dara Shukoh is also credited with the commissioning of several exquisite, still extant, examples of Mughal architecture – among them the tomb of his wife Nadira Begum in Lahore, the Shrine of Mian Mir also in Lahore, the Dara Shikoh Library in Delhi,
The Akhun Mullah Shah Mosque in Srinagar in Kashmir and the Pari Mahal garden palace (also in Srinagar in Kashmir)
 PROBLEMS
On 10 September 1642, Shah Jahan formally confirmed Dara Shukoh as his heir, granting him the title of Shahzada-e-Buland Iqbal ("Prince of High Fortune") and promoting him to command of 20,000- foot and 20,000 horse.
In 1645, he was appointed as subahdar (governor) of Allahabad.Father's affection towards him and coldness towards your Muhiuddin, grew with every passing day.
The right of a crown prince to stay in a distinguishable Red tent, was also taken away from him by father. He loses his patience, when he was banished from entering the royal court for about 7 months..
DARA SHUKOH PART 2
EARLY LIFE
MUGHALS MUGHAL EMPERORS REIGN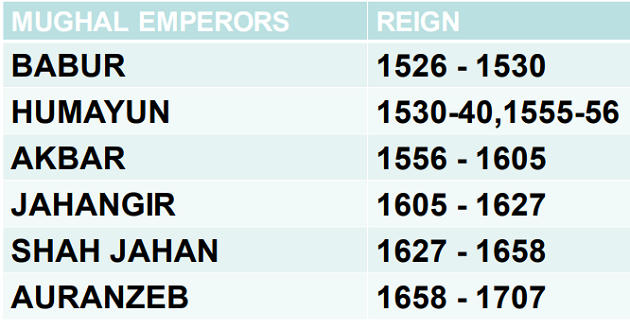 TAKHT
Shahjahan and Mumtaz Mahal had 4 sons:
Dara Shukoh
Shuja
Muhiuddin (later known as Aurangzeb)
Murad Baksh.
BATTLE STARTED
On 6 September 1657, the illness of emperor Shah Jahan triggered a desperate struggle for power among the four Mughal princes, though realistically only Dara Shukoh and Aurangzeb had a chance of emerging victorious.
Shah Shuja was the first to make his move, declaring himself Mughal Emperor in Bengal and marched towards Agra from the east. Murad Baksh allied himself with Aurangzeb. BATTLE STARTED • At the end of 1657, Dara Shukoh was appointed Governor of the province of Bihar and promoted to command of 60,000 infantry and 40,000 cavalry.
Despite strong support from Shah Jahan, who had recovered enough from his illness to remain a strong factor in the struggle for supremacy, and the victory of his army led by his eldest son Sulaiman Shikoh over Shah Shuja in the battle of Bahadurpur on 14 February 1658.
 BATTLE OF SAMUGARH
Battle of Samugarh, Jang-e-Samugarh, (May 29, 1658), was a decisive battle in the struggle for the throne during the Mughal war of succession (1658– 1659) between the sons of the Mughal Emperor Shah Jahan after the emperor's serious illness in September 1657.
The battle of Samugarh was fought between his sons Dara Shikoh and his two younger brothers Aurangzeb and Murad Baksh (third and fourth sons of the Mughal Emperor Shah Jahan).
 BATTLE OF SAMUGARH
The army of Aurangzeb arrived with yellow banners and flags and fortified their position in front of the heir apparent. Dara Shikoh then tried to protect his rear flank by erecting massive red tents and banners
Dara Shukoh was defeated by Aurangzeb and Murad during the Battle of Samugarh, 13 km from Agra on 30 May 1658. Subsequently Aurangzeb took over Agra fort and deposed emperor Shah Jahan on 8
 BATTLE OF SAMUGARH
Although Dara Shikoh was the most powerful man in the Mughal Empire after his father Shah Jahan, he knew little about the art of war and military command.
When the battle ended Dara Shikoh and Khalilullah Khan fled towards Sulaiman Shikoh and Aurangzeb was declared the new Mughal Emperor.
Aurangzeb then marched onwards to Agra which he besieged, however not until he closed down the city's water supply did his father Shah Jahan finally surrender. Shah Jahan was soon imprisoned in the Red Fort.
  DEATH
After this defeat he fled to Sindh and sought refuge under Malik Jiwan , an Afghan chieftain, whose life had on more than one occasion been saved by the Mughal prince from the wrath of Shah Jahan. • However, the treacherous Junaid betrayed Dara Shukoh and turned him and his second son Sipihr Shukoh over to Aurangzeb's army on 10 June 1659.
Dara Shukoh was brought to Delhi, placed on a filthy elephant and paraded through the streets of the capital in chains.
 DEATH
He was assassinated by four of Aurangzeb's henchmen in front of his terrified son on the night of 30 August 1659 (9 September Gregorian).
After death the remains of Dara Shukoh were buried in an unidentified grave in Humayan's tomb in Delhi.
Make Notes