EARLY LIFE
Amrita Pritam was born as Amrit Kaur in 1919 in Mandi Bahauddin, Punjab, in present-day Pakistan, the only child of Raj Bibi, who was a school teacher and Kartar Singh Hitkari, who was a poet, a scholar of the Braj Bhasha language, and the editor of a literary journal.
Amrita's mother died when she was eleven. Soon after, she and her father moved to Lahore, where she lived till her migration to India in 1947.
Her first anthology of poems, Amrit Lehran ("Immortal Waves") was published in 1936, at age sixteen, the year she married Pritam Singh, an editor to whom she was engaged in early childhood, and changed her name from Amrit Kaur to Amrita Pritam.
PARTITION OF INDIA
One million people, Muslims, Hindus and Sikhs died from communal violence that followed the partition of India in 1947, and left Amrita Pritam a Punjabi refugee at age 28, when she left Lahore and moved to New Delhi.
we remember the poem that immortalised her, the first dirge to Partition by a Punjabi poet writing in any language: Ajj Akhan Waris Shah nu ('Waris Shah, I Call out to You Today'). She wrote it during a train journey from Delhi to Dehradun in 1948, as a 28-yearold refugee from Laho
The poem addressed to the Sufi poet Waris Shah, author of the tragic saga of Heer and Ranjah and with whom she shares her birthplace.
AUTHOR
Amrita Pritam worked until 1961 in the Punjabi service of All India Radio, Delhi. After her divorce in 1960, her work became more feminist.
Many of her stories and poems drew on the unhappy experience of her marriage. A number of her works have been translated into English, French, Danish, Japanese, Mandarin, and other languages from Punjabi and Urdu, including her autobiographical works Black Rose and Rasidi Ticket (Revenue Stamp).
AUTHOR
The first of Amrita Pritam's books to be filmed was Dharti Sagar te Sippiyan, as 'Kadambari' (1965), followed by 'Unah Di Kahani', as Daaku (Dacoit, 1976), directed by Basu Bhattacharya.
Her novel Pinjar (The Skeleton, 1970) narrates the story of partition riots along with the crisis of women who suffered during the times.
She edited Nagmani, a monthly literary magazine in Punjabi for several years, which she ran together with Imroz, for 33 years; though after Partition she wrote prolifically in Hindi as well.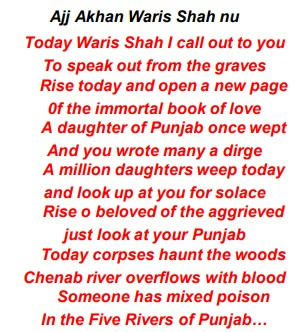 LOVE STORY
In 1935, Amrita married Pritam Singh, son of a hosiery merchant of Lahore's Anarkali bazaar. In 1960, Amrita Pritam left her husband.
Amrita found solace in the companionship of the artist and writer Imroz. She spent the last forty years of her life with Imroz, who also designed most of her book covers and made her the subject of his several paintings. Their life together is also the subject of a book, Amrita Imroz: A Love Story.
She died in her sleep on 31 October 2005 at the age of 86 in New Delhi, after a long illness.
AWARDS
Amrita was the first recipient of Punjab Rattan Award conferred upon her by Punjab Chief Minister Capt. Amarinder Singh.
She was the first female recipient of the Sahitya Akademi Award in 1956 for Sunehadey , Amrita Pritam received the Bhartiya Jnanpith Award, India's highest literary award, in 1982 for Kagaj te Canvas (Paper and Canvas).
She received the Padma Shri (1969) and Padma Vibhushan, India's second highest civilian award, and Sahitya Akademi Fellowship, India's highest literary award, also in 2004.
 AWARDS
She was nominated as a member of Rajya Sabha 1986–92.
Towards the end of her life, she was awarded by Pakistan's Punjabi Academy, to which she had remarked, Bade dino baad mere Maike ko meri Yaad aayi.. and also Punjabi poets of Pakistan, sent her a chaddar, from the tombs of Waris Shah, and fellow Sufi mystic poets Bulle Shah
 NOVELS
Pinjar
Doctor Dev
Kore Kagaz, Unchas Din
Dharti, Sagar aur Seepian
Rang ka Patta
Dilli ki Galiyan
Terahwan Suraj
Yaatri
Jilavatan (1968)
Hardatt Ka Zindaginama
Autobiography
Black Rose (1968)
Rasidi Ticket (1976)
Shadows of Words (2004)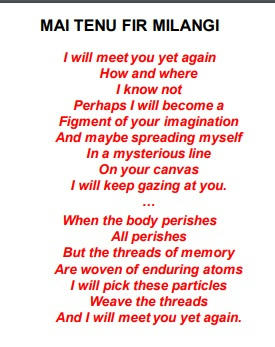 Make Notes